Traditional Māori Healing Workshops  
For the first time, Traditional Māori Healing Workshops will be available in Singapore.

Mirimiri & Romiromi  Wānanga (Level 1 & 2)
Dates: 8 & 9th June 2018 (Level 1 ( Friday & Saturday)
Dates: 10&11th June 2018 (Level 2) (Sunday & Monday)
Time: 10am-6pm
Tuition: $700 each level, bundle $1300 for both levels
Venue: Full Circle SG
Limited space:  12pax
Traditional Māori Healing is Intuitive bodywork in the form of Deep Tissue Massage or Myofascial Release and is known as Mirimiri & Romiromi and comprises of two fundamental aspects. To Mirimiri is to agitate the tissue, muscle, bone, blood and all fluids and to Romiromi is to stimulate the internal organs.
Mirimiri is an ancient and traditional Māori form of massage based on Māori philosophies surrounding health or spiritual holistic wellbeing. It incorporates our connection to our environment and the ebbs and flows of Mauri (lifeforce) within everything and every one. Mirimiri is the tuakana (older sibling) to Romiromi. To some people Mirimiri  may mean a gentle or very light massage, to others it may mean something else. It depends on one's perspective and the meaning of it.
Mirimiri has been around since time began. Since the separation of Ranginui (Sky Father) and Papatūānuku (Earth Mother) Mirimiri has been happening. Far from being restricted to the effect of just hands upon the human body – Mirimiri is a thousand things - when it is raining outside: the effect of raindrops washing the leaves on the tree is a form of Mirimiri. Similarly, the effect of waves breaking on the shore is the Mirimiri between Hine-Moana (Sea Maiden) and Papatūā nuku and is among the oldest forms of Mirimiri of all. So different types and forms of Mirimiri  are happening within the elements all the time.
Consider the therapeutic effect of a smile upon someone having a bad day – that can be a massage. When we breathe in deeply through our nose and exhale through our mouth – likewise we Mirimiri all our internal organs. On a purely human level, Mirimiri happens on many different layers of mind, body, and soul. We, as humans, accumulate blockages, stress, and trauma through our whole being and this starts to manifest as pain and tension in our physical bodies and also in less visual forms – as headaches for example. What Mirimiri does is allows us a way to alleviate our bodies of these blockages.
A mixture of physical and spiritual components, Mirimiri involves the healers' ancestors and also the ancestors of the person he/she is working on to create harmony and balance. This is because sometimes the unbalance or the source of the problem may have been passed down through the DNA and Whakapapa (genealogy) of the patient. Mirimiri invigorates and energises our body. Clearing away the heaviness and burdens that we tend to carry on our shoulders.
The Singapore Level One and Two Bodywork Mirimiri & Romiromi  Wānanga (Workshop) is run by Ruatau Perez from Te Maurea ~ Traditional Māori Healing in New Zealand and assisted by Tangi-Metua Takie.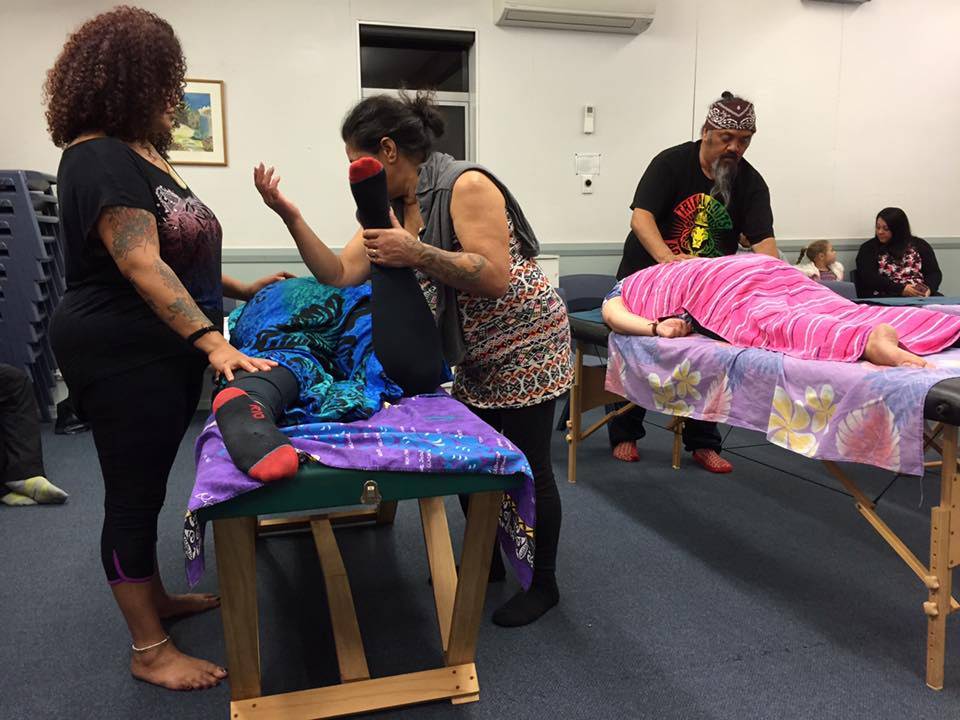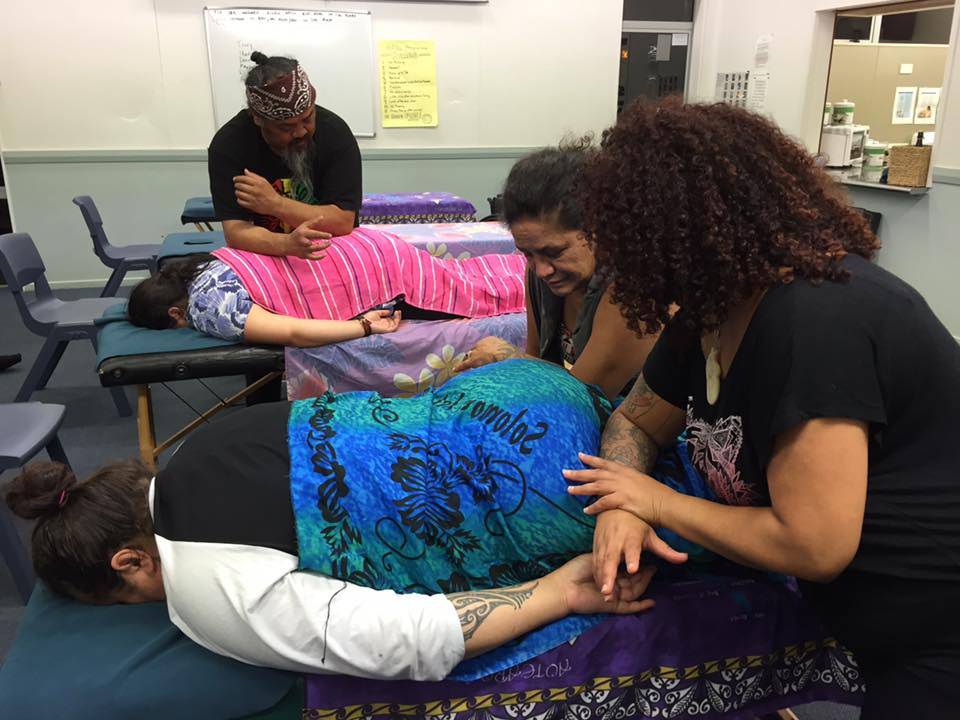 ---
Ruatau Perez is from Ngāi Tūhoe and Ngā Puhi, he trained directly under Papa Joe Delamere and has been teaching and practicing for twenty years. He also founded Te Maurea - soul centred work, about enlightenment, to awaken and effect spiritual consciousness and awareness by using ancient traditional Māori teachings and philosophies handed down through the ages to ground us within today's modern world.
Tangi-Metua Takie is from Ngati Wai, he has trained directly under Ruatau Perez at the Te Maurea Clinic in Auckland and accompanies Ruatau Perez on Wānanga throughout New Zealand, Australia and the world.
Ruatau Perez founded Te Maurea and is the development and evolution of his Mahi (work) as a Kaiako (teacher) and practitioner of Māori healing over the past 20 years. His specialties include Māori Rongoa (medicines), Romiromi, Mirimiri, Koomirimiri (gentle, hands-on spiritual healing for babies & the elderly) and Whare Wā nanga Lore (Maori teachings on Religion, Cosmogony & History).
He currently runs two, weekly clinics in Auckland and there are many of his past students practicing in Auckland and throughout New Zealand and Australia. Perez was privileged to have trained under Hohepa Delamere, affectionately known as Papa Jo for ten years and has been running his wā nanga since his untimely passing. Papa Jo was a highly renowned and internationally respected practitioner of Mātauranga (knowledge) and Rongoa Māori (Maori Medicines & Healing). He is proud to contribute to the continuation of his teachings and good works in the hand to hand way that keeps Māori healing alive.
Te Maurea is about enlightenment. Its core purpose is to awaken and effect spiritual consciousness and awareness by using ancient traditional Māori teachings and philosophies handed down through the ages to ground us within today's modern world.
Our Wānanga is about transforming individuals to push your boundaries, your belief systems and start resetting your own truths using the Ancient Māori Teachings. Aligning your wairua (your spirit), your hinengaro (your psychological) and your tinana (your physical manifestation) so they are all working in harmony.
Our workshops are more than just learning about the work of Mirimiri and Romiromi - you live and breathe the Ancient Māori Philosophies of being and this will help to unravel the conditioning of who we are in this moment. We believe to help others we must first heal ourselves ā Wairua (spiritually), ā Tinana (physically), ā Hinengaro (psychologically) and so we invite you to come forth and experience Indigenous Māori knowledge that will help to empower you on your path and supporting you to evolve to the next level.
---
Level One & Two: Safety, Philosophies & Bodywork Foundation Certification
Level One & Two together incorporate the learning and practice of the foundation of Mirmiri and Romiromi including basic alignment and manipulation techniques. Combined this is a certification workshop. 
This Wānanga is about why we do it, how we do it, when we do it and can we do it. It's about understanding the energies doing the mahi (work), the intentions that go into doing what we do and the application and how it applies.
June 8th and 9th
Level One is about developing spiritual awareness, the importance of safety for both the Practitioner and the Client. It will provide you with the tools to understand, navigate and stimulate your own spiritual growth and consciousness not only within the mahi (work) of Mirimiri/Romiromi but also in our everyday lives.
June 10th and 11th
Level Two incorporates the whakapapa (genealogy) of energy, its flows and how energy becomes infused within the kaupapa (platform) of Mirimiri & Romiromi. This is the physicality of energy - how it is sourced, how it's channeled and how it's absorbed from the kaimahi (practitioner) through to the whaiora (well-being).
This course will provide you with the tools you need to practice safely and take care of yourselves and your whanau (family) when working with Wairua (Spirit), Tupuna (Ancestors) and Kaitiaki (Spiritual Guides).
We provide an open and safe environment for self-healing, realisations, empowerment, and clarity. Our workshops are open to everybody and the only requirement is that students come with a willingness to learn, an open heart and an open mind.
Mauri Ora!
Q: Tell me more about Level 1
Q: Tell me more about Level 2
Q: Who is Level 1 & 2 for?
Q: Tell me more about Pumanawa
Q: Tell me more about Whatumanawa
Q: How do body work practitioners benefit from doing the Pūmanawa & Whatumanawa Wānanga?
Q: What if you are not a bodywork practitioner, can these workshops help and how can they help?
Q: Why is it important to take this information out into the world, and what does it do for people on a larger scale?
---
---
Each class is $700.
$1300 when you enroll for 2 classes.
$2500 when you enroll for all 4 classes
Other classes by Ruatau Perez in Singapore this June:
---